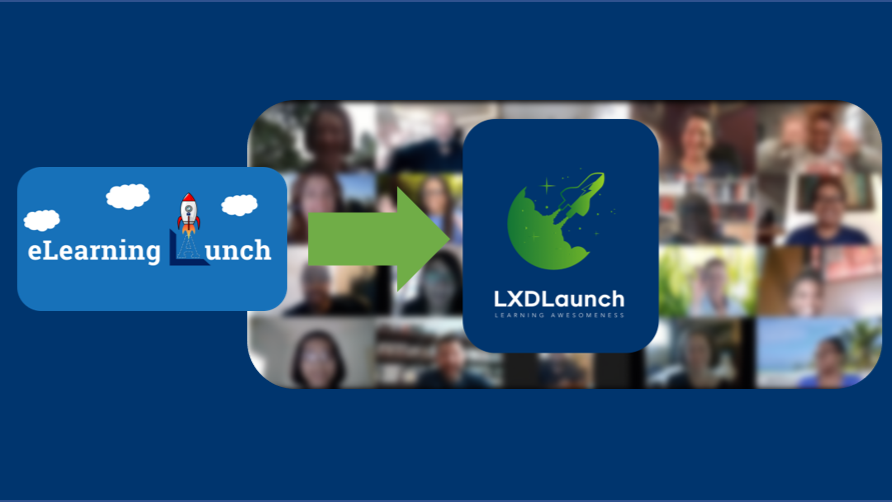 It was late January, 2020 and the world would soon shut down due to the worldwide pandemic of COVID-19. At that time, Alexander Salas, our Chief of Awesomeness, partnered with his friend Aaron King and created eLearning Launch knowing how significant it was going to be. Fast forward to today and we start fresh with a wider perspective on what we help people achieve: Their future.
Why the change?

The primary motivation was to improve all of our customers' experience why empowering to choose what they would learn without having to request cohorts manually. We are also offering more coaching and networking opportunities. Lastly, we have amplified our reach to the discipline of Learning Experience Design or LXD. Future course/cohort offerings will be focusing on all areas of corporate learning, not just instructional design and elearning.

From Old to New World
Change can be difficult, so here's a list of what has changed:
eLaunchers are now LXDLaunchers

Our social media hashtags are #lxdlaunch #lxdlaunchers
The Annual Premium Bundle is now the Starship Membership
A brand new Interstellar Membership will be added, offering premium learning experiences in advanced technologies like VR and specialized skills like learning analytics and learning needs analyses
Starting on 2022, all paid learning qualifies for SHRM and ATD recertification professional development credits aka CEUs
Competency levels are being added to classify courses i.e. Discoverer, Explorer and Commander
Multiple signup methods and payment options including Apple, LinkedIn, Google profiles
Memberships are now Netflix-like options where once paid, LXDLaunchers can choose what to sign up for independently
Academic partnerships and corporate accounts are coming
Searchable, read-along video transcriptions to quickly find details on live sessions and make our content accessible to all

Legacy eLearning Launch Content
Our legacy courses/cohorts will be transferred to LXDLaunch by February 1st, 2022. Our legacy customers will still have access to the legacy platform until that time to download their certificates and view the content.
At that time all coursework will be available on our platform and the transition will be complete. We are pumped and super excited for this new world and look forward to share it with you.
Don't Miss Our Special Discounts