LXDLaunch
#watch |
#create |
#repeat |
#smashgoals
Get started or upskill in corporate learning
Personalized Coaching
Individualized Coaching is offered with our membership plan.
Highly engaging courses
Learn, do the work, get feedback and get better.
Network
Get your work samples shared to our network of recruiters and employers. You also get to meet many other LXDLaunchers in similar journeys
Real skills with every cohort
Take courses that make you create work samples. Learn as you design and create.
Benefits of our learning programs
The best instructors aka Learnstronauts have designed the most motivating learning voyages for you.
Zero BS Learning
Our training is designed to provide the skills in a practical approach. You put in the hours and we will be with you every step of the way with feedback and coaching.
Observable Skills
Each course gives you skills and confidence to create useful work samples. We take the time to look at your work samples and tell you how to improve them.
Land Your Dream Gig
We offer the best aligned programs to help you rise above the competition. Get hired or promoted with the skills corporate learning employers are looking for.
From full-time teacher to Instructional Designer in less than 90 days!
"The LXDLaunch voyage guides you to upskill in your learning theory and supports you in applying those skills to your work samples with a plethora of authoring tools (Storyline, Camtasia, and Augmented Reality). It takes hard work, time management, taking constructive feedback and furthering your skills outside of class time to be successful. I apply everything I learned, and more, in the LXDLaunch journey to my current role as a corporate instructional designer. I'm very grateful for Alex's mentorship and the LXDLauncher community for supporting my career pivot from teacher to Instructional Designer."
Heidi Raganathan
Former teacher and now Learning Experience Designer
When do cohorts take place?
Most of them weekdays evening usually between 6-8PM EST. Occasionally on Saturday mornings for some.
What is your refund policy?
100% money back within 7 days of purchase after the start of a course/cohort. Money back guaranteed for those who are not satisfied with their progress when they have followed all guidance and submitted work samples. We record all sessions and will support you all the way.
What happens if I can make the live sessions?
Not a big deal, all sessions are recorded and released the next day in the course player.
How long is the content available for?
All individually purchased cohorts and course content is available forever.
Content under a Starship LIFETIME Membership is available forever at one price, one time. Yes! Forever!
How do I attend the live cohorts?
Invite downloads and links are displayed in the course player.
What is the course player?
It's like a video player that shows all course/cohort content and materials.
I want to be an Instructional Designer, where do I start?
Articulate Storyline On-Demand
Creating Digital Portfolios
Augmented Reality Discoverer
Camtasia Interactive Video Cohort
Instructional Design Discoverer (JUN 22)
Enterprise Learning Experience Design (eLXD) Fall
Do I need to buy software to participate?
No, you can learn by using free trial versions of the software.
What does personalized feedback mean?
Means your Learnstronaut aka instructor reviews your work, tells you what went well and gives you improvement details.
If I'm a teacher, how long would it take me to land an ID job?
It depends on your existing visual skills, but around 90 days of 6 plus hours of weekly commitment. On a regular basis, 5 months is the average.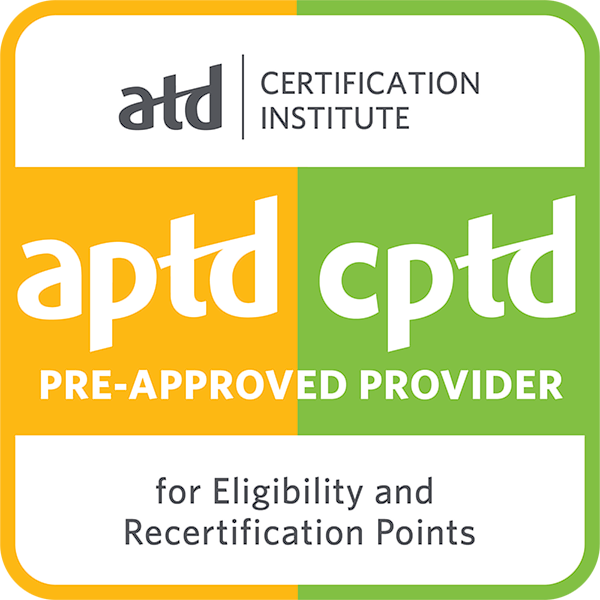 pROFESSIONAL DEVELOPMENT CREDITS
Do the work, get Professional Development Credits!
LXDLaunch has been pre-approved by the ATD Certification Institute to offer educational programs that can be used towards initial eligibility and recertification of the Certified Professional in Talent Development (CPTD) and Associate Professional in Talent Development (APTD) credentials.
Send us a note for
Corporate rates
Training for your teams.
Other questions
Just in case you need more help.
Don't Miss Our Special Discounts